Act now as the Aug 4th ACO deadline is fast approaching.
You are surrounded by constant change.
The needs of your patients and practice are expanding. Technology and the healthcare environment are evolving. You've read about value-based care and how practices like yours have seen patient care improve while lowering costs. 
But where does your practice fit within value-based care?
Achieve a deeper understanding of the challenges primary care physicians face and ways to take back control with our free white paper.
If you are ready to dive deeper and explore how your practice fits within the latest value-based care models, complete the form below.
Which value-based care program is right for your practice? Submit this form for a free practice evaluation.
Act now as the Aug 4th ACO deadline is fast approaching.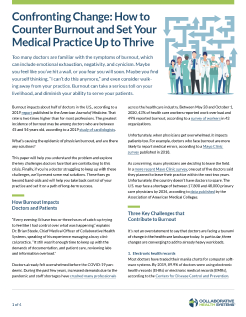 Gain insight into how your medical practice can thrive in today's environment with a free download of "Confronting Change: How to Counter Burnout and Set Your Medical Practice Up to Thrive."
DOWNLOAD WHITE PAPER
ACO Deadlines*
July 29, 2022 – Last day to sign up with CHS to help you meet the Aug 4 ACO deadline.
August 4, 2022 – ACO Reach & Shared Savings Program ACO. Last opportunity to add provider TINs.
June 7, 2022 – Shared Savings Program ACO Notice of Intent
April 22, 2022 – ACO Reach Applications
*If you've missed a deadline, don't worry. Contact us to discuss other ways to add your practice to 2023 ACO programs.
Medicare providers are increasingly turning to innovative value-based care models to enhance the efficiency and effectiveness of care.
10-Year Anniversary of Accountable Care Organizations (ACOs).
The first class of ACOs was announced by the Centers for Medicare and Medicaid Services (CMS) on April 10, 2012 and was estimated to cover approximately 375,000 Medicare beneficiaries across 18 states. A decade later, there are 483 ACOs serving 11 million beneficiaries.
CHS has provided more than $130 million in direct payments to providers across Medicare programs, including Fee for Service (FFS) and Medicare Advantage.
LEARN MORE